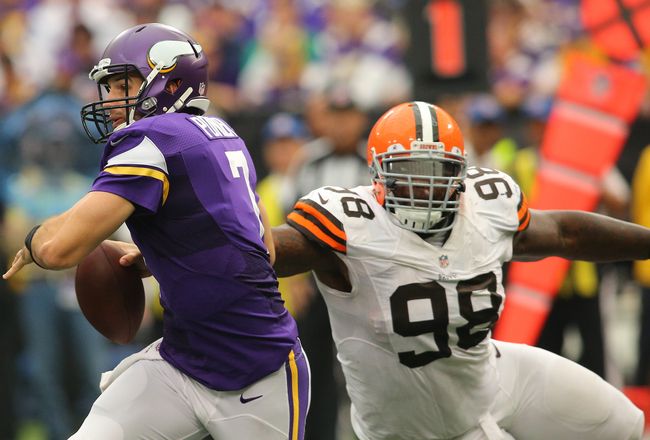 Adam Bettcher/Getty Images
In the Minnesota Vikings' 31-27 loss to the Cleveland Browns, it came down to one quarterback who was able to get it done when it mattered, while another fell well short. Browns quarterback Brian Hoyer overcame two second-half interceptions just in time to lead his team to the game-winning touchdown with less than a minute remaining in the game.
The Cleveland defense limited Adrian Peterson to only 88 yards on 25 carries. Again, it came down to the Vikings offense needing a touchdown in the fourth quarter to put the game away and settling for a field goal. Christian Ponder finished 25-of-42 with 228 yards. He also rushed five times for 46 yards and two touchdowns.
This was supposed to be an easy game for the Vikings defense after the Browns lost their starting quarterback and traded away their leading rusher. Instead, it turned into a nightmare, as the Browns were able to move the ball at will during the first half.
The loss drops the Vikings to 0-3 and practically makes the Vikings' quest to return to the playoffs almost impossible. After a very good showing in Chicago, that resulted in a one-point defeat, this loss is much more devastating and leaves the Vikings with a lot questions.