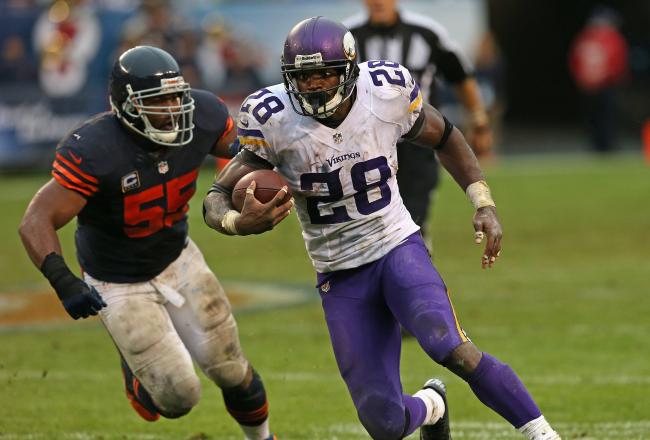 Jonathan Daniel/Getty Images
Although the NFL has been dubbed as a "quarterback league" in recent years—for a deeper look into this transition, check out Bleacher Report NFL National Leader Writer Michael Schottey's article—when it comes down to it, running the football is still a key element to any successful offense.
With Adrian Peterson, one of the most talented running backs of all time sitting in the Minnesota backfield, the question this season becomes, can he carry this Vikings offense to the playoffs?
Coming off a gut-wrenching loss to the Chicago Bears, we all know that the Vikings have had a rough start to their 2013-14 season.
Spotty quarterback play, the inability to stop the run and horrendous play-calling has left many Vikings fans floating in a sea of frustration and disappointment.
Now sitting at 0-2, it's time to ask ourselves, can AP carry us once again?
Making a case for Adrian Peterson's ability to carry this Minnesota offense isn't incredibly hard to do considering he accomplished that feat just last season for this team. Last season Peterson accounted for 36 percent of the total offensive plays and 43 percent of the yards according to Bleacher Report AFC West Lead Writer Christopher Hansen.
Grading out as the No. 1 overall running back in 2012, according to Pro Football Focus (subscription required), Peterson's run grade was far superior to everyone else who played the position. AP finished with a 30.2 grade running the football. In second place was Buffalo Bills running back C.J. Spiller, who graded out at 19.7.
Thanks to a near record-setting season, Peterson served as the high-powered engine of this offense. Even with a struggling young quarterback in Christian Ponder—according to Pro Football Focus (subscription required), Ponder graded out as the 34th-ranked QB in the NFL last season—the sheer talent of Peterson helped this Vikings team achieve great things.
Aside from Peterson's ability in the run game, because of his presence in the backfield, the Minnesota offense should be able to eviscerate opposing defenses through the air.
Since they are a hot topic of conversation at the moment, let's use the revamped Philadelphia Eagles as an example.
While comparing Eagles head coach Chip Kelly and Vikings offense coordinator Bill Musgrave is like comparing a succulent filet at Morton's Steakhouse to a "Mom's in a rush to get to yoga tonight, so let's eat Hamburger Helper" situation, there are still important lessons that Musgrave can learn from Kelly's philosophy.
Warp-speed tempo, unique formations and no-huddles aside, at its purest form, Kelly's offense centers around his team's ability to destroy defenses on the ground, which in turn will open up gaping passing lanes.
That offensive philosophy at its core is simple and remarkably effective. And with a player like Peterson in the backfield, if you didn't know any better you would think Minnesota would be able to throw the ball for 500 yards every Sunday.
Sadly, there are two major problems with applying that theory to the Vikings.
The first problem is offensive coordinator Bill Musgrave, who has struggled to call effective plays, while the second problem is the on-and-off play of starting QB Christian Ponder.
It's as simple as basic math. When an opposing defense doesn't respect your ability to throw the football, it is able to stack the box and focus on stopping your ground game at all costs.
A prime example of this occured in Week 1 when according to ESPN.com, against the Detroit Lions, Ponder faced the highest percentage of eight-man fronts in the NFL.
That's why the root of the problem isn't AP or his talent. It's that the Vikings don't have a franchise-caliber QB right now to help him carry this offense.
Those who believe Ponder can make that leap, if you ask them, will swear to you that they wouldn't trade the NFL's reigning MVP for anything. But in reality, if the Vikings had the chance to add an established franchise QB in exchange for Peterson, with the rest of the talent on this offense, that might be worth considering.
Think about this for a second. As valuable as Peterson was to the Vikings' playoff run last season, it's a daunting task for a running back to carry an entire offense and produce 2,000-yard rushing seasons like clockwork—especially at 28 years old.
That 2,000-yard venture may have been an anomaly. While he still is the best running back around, historically Peterson's numbers usually fall right alongside other talented running backs like Maurice Jones-Drew, Arian Foster and Marshawn Lynch.
Despite his constant production, Jones-Drew and the Jacksonville Jaguars haven't had a winning season since 2007. But with stellar quarterbacks by their side—according to Pro Football Focus (subscription required), both Matt Schaub and Russell Wilson graded out in the top 20 amongst QBs last season—Foster and Lynch have served as a complement to their respective playoff-bound offenses.
I bring this up because we know that in this league, the value of running backs is always being debated. Regardless, whether we are talking about successful running-back-by-committee approaches like the New Orleans Saints had in 2011—the Saints finished sixth in rushing that season—or the rare workhorse RBs like a Peterson or Foster, a running back carrying an offense alone is rare.
The Verdict
As Vikings fans, it might be a harsh reality to comprehend considering what Peterson did for this team last season, but without any help from his offensive coordinator or starting quarterback, it's apparent that Peterson won't be enough to carry this offense back to the playoffs this season.
*All stats courtesy of NFL.com unless noted otherwise.